Integrating physical, engineering and social sciences to construct a framework for assessing effectiveness and side effects of geoengineering proposals.
Integrated Assessment of Geoengineering Proposals
---
IAGP News
January 2015: Could we Restore Arctic Sea Ice with Geoengineering?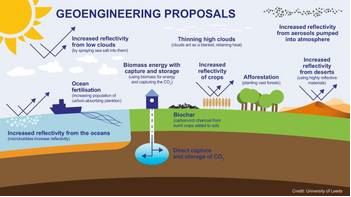 In a paper just published in Geophysical Research Letters IAGP researchers perform a novel simulation where we see if it is possible to restore Arctic sea-ice using stratospheric aerosol injected by planes flying out of Svalbard. More
January 2015: Forcing, feedback and internal variability in global temperature trends
In this latest study, published in Nature, authors Piers Forster (IAGP Principal Investigator) and Jochem Marotzke, MPI, compared climate observations with simulated 15-year trends over the period 1900-2012. The research concluded that the claim that climate models systematically overestimate the response to radiative forcing from increasing greenhouse gas concentrations seems unfounded. More
For full stories and all IAGP news
IAGP Research: What have we learned?
Our key findings are presented in a series of Briefing Notes
Geoengineering Research: Where Next?
On 26th November 2014, three UK geoengineering research projects, IAGP, SPICE and CGG, held a joint event, Geoengineering Research: Where Next?, at The Royal Society in London to disseminate our research findings.
Read the press release for the dissemination event.
Watch the key speakers' presentations and view the slides.
Browse some of the media responses to our research
Further Information
Read through our archive of IAGP news articles. Find out more about geoengineering. Find out more about who we are. Find out more about our research.
For further information on the UK based SPICE and CGG geoengineering research projects: